One of the quickest and easiest ways to organize space and add some tasteful decor is with baskets. If you struggle with lack of storage or too much stuff that you absolutely have to have, then baskets might be a great solution. Local craft stores frequently offer sales on baskets, and you can stock up on them to quickly convert disorganization into tasteful vignettes throughout the different areas of your home.
Kitchen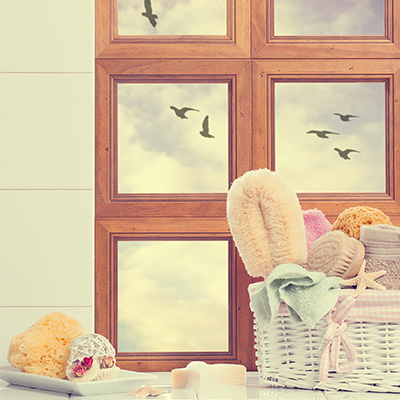 Utensil holder – In some kitchens, drawer space is at a premium. And cluttering up your counters can also be an issue. But using a basket for frequently used utensils not only offers an inexpensive way to be organized, it projects that your kitchen is meant for cooking.
Mail basket—instead of tossing your unread mail on the closest flat surface you can find, place a pretty basket on a table, countertop or desk to hold the mail until you can get to it. This not only looks nicer, but it keeps your mail all in one place so you don't risk losing important bills or correspondence.
Take out menu holder— I know, you have that basket of kitchen utensils on your counter. But sometimes it's nice to take a break from cooking and order take-out or delivery. The problem is that the take out menus tend to pile up in drawers, on shelves, and on top of the refrigerator, creating unsightly messes and making it hard to find what you're looking for. Look for an oblong or rectangular basket to keep the menus organized. Purchase an oblong or rectangle basket and place all your menus in it. The next time you're in the mood for takeout, you'll know where to look.
Great Room
Magazines and Books — If you have bookshelves in your great room, find baskets that fit neatly on your shelves and give each member of the household a decorative basket to hold their magazines and books. If you just need one big basket to house magazines, find something that is slightly larger than your magazines and stack neatly where they are accessible, but also create a decorative statement.
Hobbies — Do you knit? Picnic-type baskets offer a quick way to organize your needles and yarn that can be closed up until you are ready for it. Place it next to your favorite chair or store the basket under an end table. Toys, coloring books and crayons can be placed in colorful baskets on shelves.
Remote control —Oh the tangled mess! Take all of those remotes and placed them neatly in a basket, every day. No longer search everywhere for the missing remote to the TV, game station, cable.
Bathroom
Create a spa atmosphere in the bathroom by —use baskets to keep hair brushes, accessories and combs in one place. Roll washclothes neatly in a basket. Place a flat basket on the counter and put cotton balls, qtips and other items in smaller baskets inside the flat basket.
The uses for baskets as home décor are endless. They not only add charm and extra storage space to your home, but they're inexpensive as well, giving your home an elegant look on a budget. If you are staging your home for sale, baskets provide inexpensive decor which can be recycled in your new home for the same or a different purpose.
So where can you find baskets in our neighborhood?
Here are some places you can find baskets for your decorating projects:
[one_half]
Garden Ridge
2875 George Busbee Parkway
Kennesaw, GA 30144
Phone: (770) 425-8337
[small_button text="Website" title="Website" url="http://www.gardenridge.com/" align="left" target="_blank" style="light"]
Jo-Ann Fabric and Craft Store
2500 Cobb Place Ln Nw
Kennesaw, GA 30144-7521
Phone: (770) 428-9986
[small_button text="Website" title="Website" url="http://www.joann.com/" align="left" target="_blank" style="light"]
Kirkland's
3625 Dallas Highway
Marietta, GA 30064
Phone: (678) 354-0183
[small_button text="Website" title="Website" url="http://www.kirklands.com" align="left" target="_blank" style="light"]
[/one_half]
[one_half_last]
Michaels
3335 Cobb Pkwy N, Ste 500
Acworth, GA 30101
Phone: (770) 966-9013
[small_button text="Website" title="Website" url="http://www.michaels.com/" align="left" target="_blank" style="light"]
Old Time Pottery
2949 Canton Rd
Marietta, Georgia 30066
Phone: (770) 419-9360
[small_button text="Website" title="Website" url="http://www.oldtimepottery.com/" align="left" target="_blank" style="light"]
World Market
840 Ernest W Barrett Parkway
Kennesaw, GA 30144
Phone: (770) 794-4777
[small_button text="Website" title="Website" url="http://www.worldmarket.com" align="left" target="_blank" style="light"]
[/one_half_last]
http://marnafriedman.com/wp-content/uploads/2013/12/Basket-decoration_dqf8lf.jpg
480
640
Marna Friedman
http://marnafriedman.com/wp-content/uploads/2014/06/logo.png
Marna Friedman
2013-09-11 12:30:30
2013-12-20 18:26:42
Decorate on a Budget with Baskets